Reasons why you should invest in App Store Optimization (ASO) Strategy
What is ASO?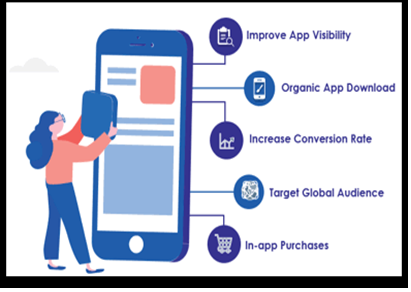 Eyeballs matter in the digital market. ASO revolves around visibility, the ability of an app to become a preferred choice for organic downloads. ASO is a strategic continuous process to increase and maintain high app visibility in app store listings, increase download preference, enhance conversion rates and in-app purchases.
The Difference between ASO and SEO
(Search Engine Optimization)
 

SEO

ASO

Objective

Driving traffic to website

Increasing app visibility and downloads.

Ecosystem

World wide web

App stores like Apple App Store, Google Play Store

Search Engine

Organic search engines like Google, Bing, Yahoo

App store search

Search intent

General queries, information and answers about products and services, website search

Discovering need based apps

Ranking elements (on page)

i. Keywords in title/header tags

ii. Content relevance, structure, quality.

iii. Optimized URLs and meta tag

i.App title, subtitle/description

ii. Keyword field/density

iii. Publisher name

Ranking elements (off page)

i. Speed, backlinks and time spent

ii. Click-through and bounce rate

iii. Domain authority

i. Download numbers and velocity

ii. Conversion rate

iii. Retention and Engagement

iv. Reviews and Ratings

v. Crash/Uninstall rate
Why ASO is Important for app growth
An app that does not support business growth is a non-starter. The importance of ASO in making the app stand out before potential customers and driving traffic is well established. ASO's criticality for app growth can be highlighted by the following parameters:
Ease of Customer Acquisition: A critically important factor for any business is customer acquisition and the cost of acquisition. ASO helps in pushing organic installs, thereby bringing down acquisition costs while widening the user base;
Brand Recognition: Higher app visibility via ASO helps in brand exposure and recognition at a low cost. Better recall leads to repeat in-app purchases and customer loyalty.
Supports other marketing strategies: Marketing tactics get a boost with ASO-driven app rankings. Customer connect, and engagement goes up, which results in positive reviews and word-of-mouth publicity.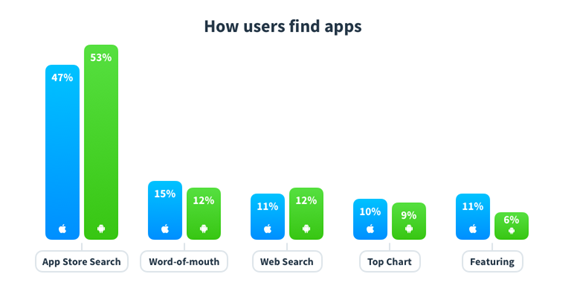 Tips for App Store Optimization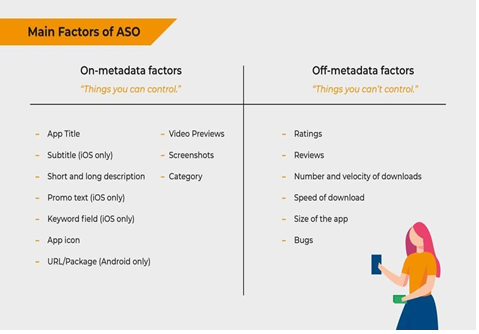 Optimizing the on-metadata and off-metadata elements of the product page or listing in app stores provides the key to ASO. For e.g. the App name/title, subtitle/description, Keyword field/density, Publisher/Developer name, category, icon, screenshots, etc. are controllable factors to be leveraged. Off page, non-controllable ranking elements like volume and speed, ratings and reviews, etc. can be influenced e.g. by responding to user concerns and incorporating feedback in updates.
Flowing from the above, the following suggestions can help in developing an effective ASO strategy.
#1.Opt for a title and description that is synonymous with the brand. Familiar brand names and icons not only catch the eye but are sought after as they reflect user trust. Brand name and short description in app titles gives good organic growth and conversion rates. Subsequently, app store A/B testing to confirm that one is on the right track should be done. For new entrants, it makes sense to create brand awareness in advance so that the targeted audience's comfort level and familiarity with the brand gets established. The focus on brand awareness will help recognition and recall, triggering the response to download.
#2.Pay attention to visual assets. It is essential to use creative and high quality visuals. Devoting time and attention to screenshot details like colour contrasts and combination, layout, size, pictures, ratio of text to images, will convey the app story more effectively. Compelling visuals will not only make the app distinctive but also stimulate a conversion decision. Run A/B tests to verify.
#3.Comply with app store guidelines and updates. Do keep in mind key metrics that count in store search results like in-app purchases and developer name in Apple and feature graphics in Google play store. Optimizing these elements helps in featuring high on the search results. Another critical component to pay attention to is privacy controls. Noncompliance with the store frameworks introduced for privacy concerns is a serious issue. Apple has introduced ATT (App Tracking Transparency) framework and Google Android safety sections, to address concerns of data privacy and security. This will impact developers and users as apps that do not align with these guidelines will not find takers. This aspect assumes importance in building user trust and acceptance of the brand and its app. A/B tests to determine user reactions to data collection and its privacy will help fine-tune this component of the app.
#4. Monitor and track ASO KPIs. ASO and UA are continuous processes. Tracking the KPIs and making qualitative improvements and updates is a great way to stay ahead of the curve. App store analytics and external tools with A/B testing and re-evaluation should be continually applied to test the relevance of the app to the identified target group.
#5. Learn from the best in class market players and competitors. There is no shame in closely following the trends and best practices of top ranked apps. Their success stories can provide valuable lessons in application of keywords, icons, visuals, screenshots, UX, etc.
Conclusion/How PW can help
Since ASO is a make-or-break strategy, it is better to utilize the services of experts in this area. At PennyWise we can partner you and provide solutions and suggestions to make the app a success by adding the elements that will give a heft to the features, UX and push up reviews and rankings. We have certified developers and technological capabilities to provide go-to-market with custom-built, enterprise-grade web and mobile applications. Or help in developing and launching your ASO strategy for effective improvements.