The client is a fashionable upscale retailer selling furniture and home accessories in Hong Kong, China and the UAE markets. The client's mission is to provide best-in-class furnishings and design services, empowering people to create beautiful interiors that perfectly match their lifestyle aspirations.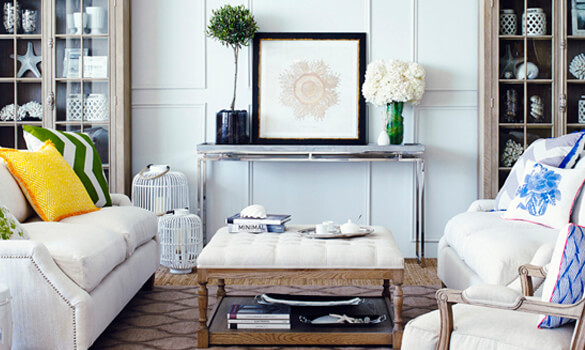 The client had an existing solution in the development phase and while the website was functioning, there were a number of technical & performance issues with the website. The pages would load slowly and the checkout process was extremely slow. The existing solution was not scalable. The client realized that they could not launch the website in its current form with all the performance and scalability issues. PennyWise was approached to resolve the performance & technical issues and help launch the website with additional features as per their business requirements.
In addition to improving the performance of the application, with different product verticals for a niche customer segment, the business challenge was how to clearly represent each business unit on the website. Each customer segment had distinct needs. The website needs to understand what those needs are and then funnel the user towards the service offering most relevant to their personal needs.
A phased approach was adopted by the PennyWise eCommerce team. The initial phase involved developing and optimizing the Hong Kong store with a clearly organized home, category and product pages. Our Magento experts streamlined the navigation for the site visitors to easily locate all desired products, optimized the checkout process and enhanced the shopping experience of the customers.
The eCommerce web design was further improved and responsive web designs were implemented to target multiple mobile and tablet devices. A host of custom solutions to cater to business requirements and integrations with third party shipping and payment solutions was then deployed. Special attention was placed on optimizing the user experience with an attractive interface, information architecture, and a special emphasis on usability and configuring each section of the website such that the admin can manage the content by themselves without having to contact the development team for content updates.
Post stabilization and launching the Hong Kong web store, PennyWise worked with the client to develop and launch the UAE and China web stores in subsequent phases. Tailored solutions were developed for custom requirements as per business needs. Where custom solutions were developed care was taken to ensure the customizations are reused and integrated with other stores without much effort.

Site visitors now enjoy intuitive site navigation with improved search and autocomplete functionalities 

Improved user experience on the web store; a secure shopping cart solution; advanced payment processing and efficient shipping and fulfilment processes

The site administrators and marketing teams have benefited from catalogue management, improved order processing, marketing & promotion tools

Improved and responsive web design helped to drive traffic to the web store
Technology Stack
PHP, Apache, Linux, MySQL
Alternative PHP Cache accelerator framework
Magento Enterprise eCommerce Framework
Amazon CloudFront CDN
JQuery & Prototype